Our trips are divided by
difficulty levels
to fit your need. To get more information about each trip, please click on the map to see each trip description.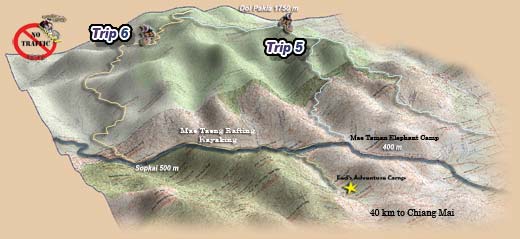 EQUIPMENT PROVIDED for all trips:
FULL SUSPENSION MOUNTAIN BIKE, helmet, gloves, knee and elbow pads,chest protector, Bike Top
PROVISIONS PROVIDED for all trips:
1 liter water , LUNCH at destination
WHAT TO WEAR:
Shorts and shirt, sport shoes, extra shirt and shorts Light rain coat in rainy season .
WHAT TO BRING:
plastic to protect camera etc. day pack ( we have one for you if you don't have one)

Chiang Dao, the last tooth of the Himalayas rises majestically above the rest of the mountains. In its shadow we find some of the most remote and interesting rides in Northern Thailand.
TRIP DESCRIPTION CROSS COUNTRY / DOWNHILL
Trip 5: intermediate level - 100% off road
Trip 5a: advanced level - 10% off road, 90% single track
Trip 5b: advanced level - 10% off road, 90% single track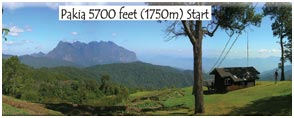 This ride includes an awesome 4 X wheel drive tour up to a 5800 foot mountain at the famous Doi Chiang Dao "The last tooth of the Himalayas".
Trip 5
From the summit we depart by mountain bikes along the ridge with beautiful views across to Chiang Dao and into the Mae Taeng Valley.
We pass by hill tribe villages and enjoy pine forests and the cool air at this higher altitude.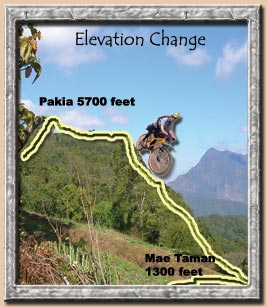 First gradual descent along the top turns into a steep drop to the Mae Taeng Valley, all on hardly used forest road until we reach the bottom of the valley. Then we ride on a small paved road through an astonishingly beautiful valley landscape, where we are greeted by elephants lingering by the river waiting to be fed.
Trip 5a
The experienced rider will enjoy this branch of the regular route down the south face of the valley through thick jungle on a very remote single track later following the water down into the farm land of the valley.
Trip 5b
Advanced riders and explorers will marvel at this remote ridge ride, these trails have never seen a bike before and who knows if we can find the exact same route again, these hunting and gathering trails branch and branch down and along the ridge as we descent in to the Mae Taman Valley. You want to be in good shape for this one . The views are magnificent.
Exploratory rides
If you are as adventures as we are and looking to join us testing new ridges and lost ravines be our guest , the rate for these rides is usually comparable to other published rides in the region. The exact length and ridability of these ridge explorations can not be guaranteed, but a hell of an adventure with an altitude advantages is for sure. Did we mention you should have past riding experience...




When:
8:30 am-5:30 pm
Trip:
Pakia to Mae Taeng Valley
Location:
Mountain 5700 feet elevation near Chiang Dao
Biking time:
Approx: 3-4 hrs, 35 km
Elevation change :
from 5700 feet (1700m) down to 1300 feet (450m)
Riding Conditions:
90% downhill, rarely used dirt road
Flora:
Pine forest, jungle, plantations
Levels:
Motivated beginners through experts
Personal fitness :
Good
Instructions:
Yes

Only the strongest and the most fit will enjoy this very long and hot adventure down Pakia Mountain in to the upper Pakia Valley down to the Mae Taeng River. Putting all your skills and endurance to the test, we are pushing the envelope in exploration of Thailand's back country.
TRIP DESCRIPTION CROSS COUNTRY / DOWNHILL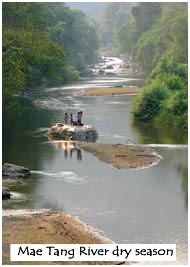 This ride includes an awesome 4 wheel drive tour up to a 5700 foot mountain across from the famous Doi Chiang Dao, the last tooth of the Himalayas . From here we ride straight down into the upper Mae Taeng Valley (2600 feet elevation) on hardly used fast dirt road. There is lots of steep downhill and plenty of beautiful views.

Once in the valley we experience single track winding up and down over numerous small hills through farm land and hill tribe villages . Finally we meet a dirt road again and work our way up over two medium size mountains. Then we get to enjoy another long winding down hill run, where again we can practice the art of downhill mountain biking.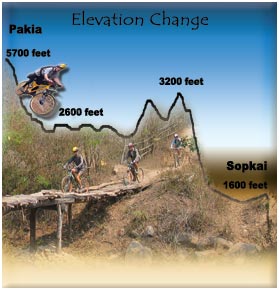 Once in the valley, we ride through rice fields and hill tribe villages to the Mae Taeng river at the small village of Sopkai where our driver awaits us.

This is a very long day and beginners have to sit this one out. You should be in excellent shape and have ample biking experience. The natural beauty and hill tribe experience is astonishing, but comes with some physical sacrifice.




When:
7:30 am-6:00 pm. By special request also optional 2nd day in our 3 Day Tour
Trip:
Pakia to Mae Taeng Valley by Sopkai
Location:
Mountain 5700 feet elevation near Chiang Dao
Biking time:
Approx: 8 hrs , 45 km
Elevation change :
From 5700 feet (1750m) down to 2600 feet (800m) up to 3200 feet (990m) down to 1600 feet (500m).
Riding Conditions:
60% downhill, barely used dirt road, single track
Flora:
Pine forest, jungle, plantations, farmland
Levels:
Intermediate through experts
Personal fitness :
Excellent, very strenuous
Instructions:
Yes